Exsalerate your sales anytime, anywhere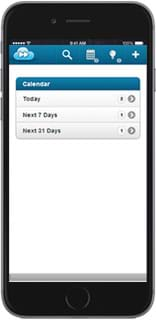 Exsalerate Mobile works on most Platforms
Exsalerate Mobile is an html 5 app so will work on most mobile browsers and tablets. Save the log on screen as an icon on your device for quick access. We require that you log on for each session to protect your data in case you lose your phone.
My Exsalerate Mobile Calendar & Task List
When you log on to your landing page in Exsalerate Mobile is an overview of of your upcoming meetings. You can drill down to the detail of each meeting. You can view your tasks by touching the light bulb icon on the top menu bar.
The Exsalerate Mobile menu makes it Easy to find Prospects or Contacts
Create a WorkflowMax job from Exsalerate and notify stakeholders in WorkflowMax that they've been assigned to the job.
Adding a New Lead, Contact, Activity or Address
Simply touch + icon at the top of every screen to add a new lead. Once you've added the lead touch the + icon again to add a contact, activity or address.
Be Guided to an Appointment
From the meeting detail touch on "Route" button and be taken to a map with the route plotted from your current location to the appointment.
Updating Activity notes in Exsalerate Mobile
You can view and edit your activities from your mobile device, no more waiting until you get back to the office use all of your downtime to keep your customer notes up to date.
Why Exsalerate?
Exsalerate is simple, effective, affordable online CRM software created especially for small to medium businesses.
Exsalerate CRM will increase sales and improve client retention.
It is all in the cloud—logon from any device, anywhere.
Exsalerate will be your reps' best friend.
Exsalerate optimises your sales process.
Access to all our features for 9 per user.